Frontier's Award-Winning SPARK™ Program
Imagine a program specially designed for seniors that not only strives to help them reach their full potential, but also provides an opportunity to spend their days with a sense of joyful purpose.
Frontier Senior Living's award-winning SPARK™ program is exactly that!
Inspired by Montessori Methods
SPARK™ is a research based program inspired by the teachings and research of Maria Montessori and Dr. Cameron Camp, which focuses on giving residents meaningful ways to feel needed and be productive. The program allows them to do the things that they have always done, in total alignment with their individual skill levels.
No matter whether a resident is a member of one of our Independent Living, Assisted Living or Memory Care communities, our SPARK™ program has something for everyone! Our goal is to build a community, where people want to live, rather than just settling for basic adequacy. Inspiring contribution, productivity and engagement from all of our residents is our mission.
The Four Pillars of the Frontier SPARK™ Program for Assisted Living & Memory Care Residents
The effectiveness and success of our SPARK™ program for Assisted Living and Memory Care residents is based on these 4 foundational pillars.
1
Social Roles
Everyone has a desire to be useful, so we ensure that each resident has a role in the community. Working the front desk or serving neighbors are examples of meaningful tasks that empower and connect residents.
2
Skills Focused
Our Montessori Assessment Tool, created by the Center for Applied Research in Dementia, uncovers remaining skills often missed by traditional assessments. We can than strengthen and build on those identified skills.
3
Procedural Memory
Skills can be learned or improved through "procedural learning." This repetition then allows routine activities to be performed with less need for concerted concentration.
4
Progression & Goal-Setting
By working on projects or learning topics over a longer period of time, always progressing toward a goal, residents become fully engaged and feel more successful.
Activities inspired by SPARK™
Through SPARK™, residents are encouraged to participate in a wide range of productive tasks and activities based on their personal interests and abilities. Here are just some of the popular activities and events that our residents enjoy through this special program.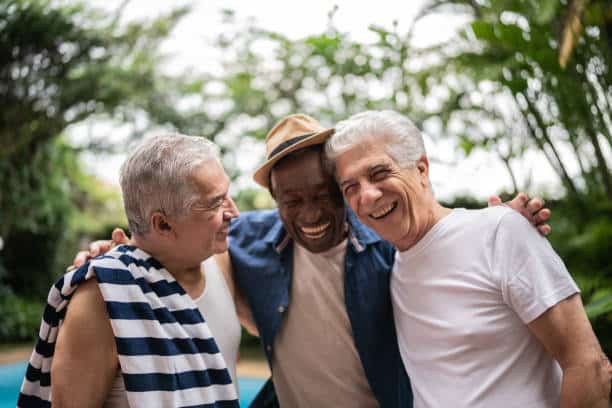 Welcome Committee
Current residents work hard each month to welcome new neighbors into the community by making gifts, learning about the person before they arrive and offering them friendship and a warm welcome upon moving in.
Culinary Committee
Residents, regardless of skill level work directly with our chefs, taking bus trips to gather ingredients and then prepare and cook meals themselves to enjoy with one another.
Beer Making
One of our most popular SPARK activities is beer making, where residents take raw ingredients and follow a guided process on how to make their own beer to enjoy with friends!
Gardening
Many of our properties have beautiful gardens which are largely maintained and supported by our residents. They plant and care for the garden during growing season and then participate in harvesting the fruits and vegetables of their labor to be used in food that is enjoyed by everyone in the community.
Health and Wellness
Whether it be filling up the humming bird feeders, taking trips, dancing, exercise and Yoga classes, visiting horse stables, cooking and art classes, or going on supervised walks in nature, it is a joy for us to see our residents' eyes light up when they take part in activities that provide profound meaning for them.
Your Unique SPARK Activity
Every one of our residents comes to live in our community with a lifetime of experiences and interests. A big part of our SPARK program is helping our seniors find joy in their own unique way. If your loved one has a particular activity that they are passionate about, we will help them stay involved with it. We cater to our residents' favorite interests!