5 Ways to Embrace Wellness for Seniors
If you have a senior loved one, here are 5 great ways you can help them embrace a life of wellness, no matter what their age.
Just a few decades ago, the idea of someone being a "senior" meant something much different than it does today. These days, people are living longer, healthier lives, both physically and emotionally. For older people, it is never too late to take steps towards living a life of overall wellness. What a person does today will have a profound influence on their health in the future.
If you have a senior loved one, here are 5 great ways you can help them embrace a life of wellness, no matter what their age.
It's Never Too Late to Quit an Unhealthy Habit
Everyone knows that lifestyle habits such as smoking, overeating, or not exercising are not good for long term health and longevity. Regardless of your loved one's age, it's never too late to turn over a new leaf and start developing healthier habits.
Encourage them to take small steps in developing healthier life style routines. Even the slightest change will be beneficial to them both now and in the future.
Exercise
The physical and emotional benefits of exercise are almost endless for seniors. Not only does movement help keep muscles and joints limber, but exercise is also a great emotional stress reliever as well. Help your loved one determine what kind of exercise they can do, in alignment with their physical capabilities. Encourage them to develop a workout routine that is sustainable long-term.
Stay Socially Engaged
Relationships with other people make life more enjoyable. Encourage your loved one to keep up their friendships with peers, and family members. There are many ways for seniors to make new friends by participating in various events and social activities.
Some people tend to isolate more as they get older. Help your loved one enjoy all that life has to offer by engaging with other like-minded people.
Keep the Mind Sharp
Staying mentally alert is one of the most important things an older person can do to optimize wellness in their lives. Encourage your loved one to read books, watch meaningful movies, or tv shows, or take a class. It's never too late to learn something new.
Evidence shows that keeping the mind stimulated is one of the best ways to prevent or slow down cognitive decline.
Find a Community in your area
No matter your need, we have the right community for you. Get started finding the perfect new home for you or your loved one today!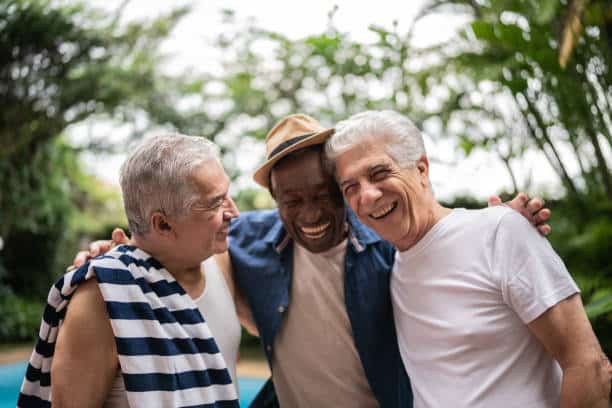 Giving Back to Others
Participating in activities that benefit others is good for the heart and soul. It's a well-known fact that when someone does nice things for others, it positively impacts everyone involved.
Look into what community events are in your local area, and ask your loved one if they would like to participate. Join them in the activities, as it will give you both a chance to spend quality time together.
Frontier Management Helps Seniors Live Their Best Lives
Reaching a level of maximum wellness should be the goal of every person, regardless of their age. At Frontier Senior Living, our beautiful communities are designed to help our residents live their best lives, physically, emotionally, and spiritually.
Our exclusive Spark program provides residents an opportunity to participate in exciting and fulfilling events all year long. If you would like to learn more about our services, we cordially invite you to visit one of our communities, take a tour and speak with our friendly and compassionate staff.
Find a community near you
that perfectly fits your needs.